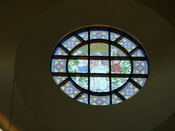 Windows of Faith
Stained glass has been used by the Catholic Church since ancient times to aid in devotion and to instruct. When much of the population could not read or write our cathedrals and churches used every means available to make known the good news of Jesus Christ in every way possible.
Saints are depicted in stained glass to encourage worshipers to emulate the piety, good works, or steadfast faith of the saint.
Our largest window is of St. Stephen, our patron saint, and it is located above the main entrance to the church. St. Stephen was the first martyr in Christianity. He was denounced for blasphemy after a dispute with members of a Jewish synagogue circa the year 36 and was then stones to death.
The temporary stained glass windows have been installed in our new church by American Graphix Solutions. These windows are replicas of the stained-glass window designs that our Pastor, the church councils, and the Arts and Environment committee approved. American Graphix Solutions used wide format eco-solvent printing and clear adhesive vinyl to mimic the look and effect of stained glass in certain areas of the church building. These vinyl windows will last between 5 and 7 years. The windows will be visible once the new church opens for our dedication on June 29, 2017.
The "real" stained-glass windows are still on the Memorial Gift List. They will be commissioned to be created once the funds are attained.
Stained glass can remind us that there is something— something beautiful — beyond the world where we live. It can help us refocus on the things of God and on our faith.
Please note: The Cross and the Light presentation will be in our new church May 18 – 21, 2017. (For better viewing effects, the windows will be covered up for this event.
Still Available:
St. Stephen Stained Glass Window: $90,000
Memorialized to Date: $10,000
*****************************************
Rose Stained Glass Windows (2): $80,000 each
Memorialized to Date: $126,660

Please contact Denise Moyer at the church at 813-689-4900, ext. 3320, or Gary Opala, Memorial Chairperson, at 813-541-8288 if you have any questions. Parish Manager Tom Doyle can also answer any questions you may have (church extention 3040).