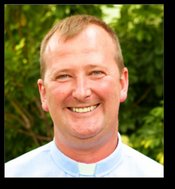 Fr. Dermot Dunne, Pastor
We have just celebrated one of the most beautiful and special days in the life of our parish, the children of St. Stephen received their Savior Jesus Christ for the very first time in the Eucharist. 125 children of God made their First Communion Saturday. We will celebrate again next week with the remaining 99 children, for a total of 224 children receiving First Holy Communion.
The joy and innocence of these beautiful amazing children of God shines so brightly on this their special day. As I rejoiced with them this anonymous quote came to mind.
A child is a person who is going to carry on what you have started. His is to sit right where you are sitting and attend, when you are gone, to those things you think are so important. You may adopt all the policies you please, but how they will be carried out depends on him. Even if you make leagues and treaties, he will have to manage them.
He will assume control of your cities, states and nations. He is going to move in and take over your prisons, churches, schools, universities and corporations. All your work is going to be judged and praised or condemned by him. Your reputation and your future are in his hands. All your work is for him, and the fate of the nations and of humanity is in his hands.
So it might be well to pay him some attention.
We as adults teach our children many things, but they learn most from our attitude rather than our words. What are the youth of this parish learning from us about living the Catholic faith?
As the children from our parish rejoiced in their first experience of receiving the Eucharist, yesterday, it is good for us more mature followers of Jesus Christ to ask: are we as adults still excited when we receive Holy Communion? Has it become just a habit or do we still long to eat the flesh of the Son of Man?
As our children were strengthened by the gift of the Jesus in the Eucharist, are we as adults, still living our life as a dignified Temples of the Holy Spirit?
God Bless,
Fr. Dermot