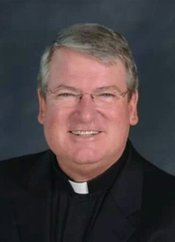 Fr. Bob
This weekend we welcome Fr. Jerry Morgan to our parish. Fr. Morgan was here a couple of years ago to share with us about an organization called "Unbound". Through this ministry, individuals can become connected with children and elderly persons in other countries who are in need of direct mission support. It just so happens that Fr. Morgan was my first pastor when I was newly ordained in Hays, Kansas. I am always happy to welcome him, especially as he is a part of this wonderful outreach. A good number of our parishioners already are a part of Unbound, that this weekend will be an opportunity for more of us to learn about this missionary effort.
Please also be praying for our Parish Pastoral Council leadership discernment process which will be taking place on Sunday afternoon. We have received nominations of individuals over Lent and they will be meeting with a facilitator to discern new members to our Parish Pastoral Council. The willingness of people to serve in this parish is truly wonderful. I thank all those who are participating in the discernment process and all those who made nominations. Our Parish Pastoral Council is working on our strategic plan for the future.
And let us continue to pray for one another.
Fr. Robert J. Schneider
Pastor