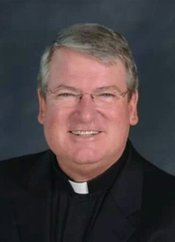 Fr. Bob
The days of summer are upon us. We want to welcome all of our visitors here to St. Stephen. We hope that you will find us to be a welcoming community of faith, which we always strive to be. Also, we think of all the members of our parish who are away on vacation! Hopefully, these days will give them time for rest and recreation!
This will be the last weekend we will be celebrating the Mass in this present church building. This coming Thursday, the new St. Stephen Church will be blessed and dedicated by Bishop Parkes. This is a great milestone in the life of St. Stephen Parish. You have worked long and hard for this day and what a wonderful weekend it will be July 1 – 2.
Also, I want to extend my gratitude to all of the parishioners of St. Stephen Parish for your support and good wishes as I now move forward to become the new pastor of St. Cecelia Parish in Clearwater. I feel that we accomplished together what I was asked to do these past four years…especially with the needed construction of the new Family Life Center and the Church. I will have wonderful and happy memories of my time here. Please welcome the new pastor of St. Stephen Parish, Fr. Dermot Dunne, with the same enthusiasm that greeted me. You truly are a wonderful community of faith and I will treasure my ministry here always!
And let us continue to pray for one another.
Fr. Robert J. Schneider
Pastor