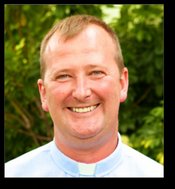 Rev. Dermot Dunne

New address of church: 10118 Saint Stephen Circle, Riverview, FL 33569
We can be reached by phone M-F, 8:30am-4pm: 813.689.4900.
Our Mass schedule:
Weekday Mass: 8:30 AM, Tuesday at 6:30pm (chapel)
Saturday Vigil Mass: 4:30 PM
Sunday Masses: 7:30 AM, 9:30 AM, 11:30 AM and 5:30 PM
On the third Sunday of the month, our IGBO community meets for Mass in the chapel at 2pm as well, followed by fellowship in the Family Life Center.
Holy Week and Easter Mass Schedule:
Palm Sunday of the Lord's Passion (3/25) - Mass in usual schedule: Saturday 4:30 PM, Sunday 7:30, 9:30, 11:30 AM and 5:30 PM
Tuesday (3/27) - Chrism Mass at the Cathedral of Saint Jude 11:00 AM (will be streamed from website www.DOSP.org)
Thursday (3/29) - Mass of the Lord's Supper: 7:00 PM
Good Friday (3/30) - Stations of the Cross at Noon; Divine Mercy Chaplet at 2:30 PM; Veneration of the Cross at 3:00 PM and 7:00 PM
Holy Saturday (3/31) - Blessing of Easter Food and Baskets: 11:00 AM; Easter Vigil Mass - 8:00 PM
Easter Sunday Mass (4/1) - 7:30, 9:30 and 11:30 AM
Contact Information
Phone: 813-689-4900 email Bernie@ststephencatholic.org

Office Hours: 8:30-4:00, Monday through Friday
Please note: All mail comes to 10118 Saint Stephen Circle, Riverview, FL 33569


St. Stephen is a Safe Environment for children and youth. Our ministers, staff, school faculty, catechists, hospital/homebound visitors and volunteers have been trained and are compliant with diocesan guidelines, so as to offer your family a great place to grow!For information about keeping our children safe, visit our diocesan website and review our guidelines.