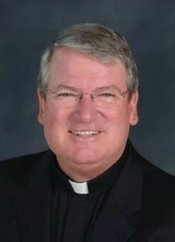 Reverend Robert J. Schneider, Pastor

5049 Bell Shoals Rd., Valrico, FL 33596 View Map
New address of church (Offices now, church as of June 26) 10118 Saint Stephen Circle, Riverview, FL 33569
We are excited to be building a brand new church at our Boyette Campus, 1 mile west of Fishhawk Blvd. and Bell Shoals Road, off Boyette Road. We expect to dedicate this new church at the end of June 2017. Join us for the celebration!
Note that our Grand Opening of the building to the public is The Cross and The Light event May 18-21, 2017. Plan to bring your friends and renew your faith through this wonderful Broadway-calibur musical and video surround experience of Christ's Passion to Pentecost. (more)
Join us in worship - our Mass schedule is:
Saturday Vigil Masses at 4pm and 6pm (Contemporary)
Sunday Mass celebrated at 8am, 9:30am, 11:30am, and 5:30pm (Life Teen Contemporary Mass)
Daily Mass: 8am Monday - Saturday; Wednesday evening at 7pm, followed by Confession and Eucaristic Adoration until 9:15pm.
All weekend Masses are celebrated at our Bell Shoals campus until our new church is dedicated.

Contact Information
Phone: 813-689-4900 email Bernie@ststephencatholic.org

Office Hours: 8:30-4:00, Monday through Friday
Please note: All mail comes to 10118 Saint Stephen Circle, Riverview, FL 33569


St. Stephen is a Safe Environment for children and youth. Our ministers, staff, school faculty, catechists, and volunteers have been trained and are compliant with diocesan guidelines, so as to offer your family a great place to grow!