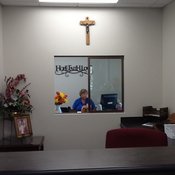 Who do you call? Bernie!
Parish Services are those that are administered from the parish office. Our staff is here to help you:
Begin preparation for your marriage,

Schedule and make arrangements for a funeral in the family,

Arrange for hospital or homebound visitation for the Sacraments,

Direct new ideas for our quarterly magazine, Quarterly Blessings,

Help make our technologies smooth and servicable, including our website.
Please contact Office Coordinator Bernie Kalle if you have any questions (parish phone 813.689.4900), or browse our categories on the left of this page.