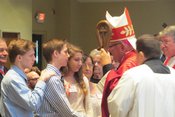 Confirmed in Christ
The Sacrament of Confirmation is, with Baptism and Eucharist, one of the three Sacraments of Initiation; Confirmation completes and confirms the grace of baptism.
At the rite of Confirmation, the candidate is anointed with the sacred chrism and the baptized person is enriched with a special strength of the Holy Spirit, and more than ever obliged to spread and defend the faith by word and deed. (Catechism of the Catholic Church).
The Sacrament of Confirmation is celebrated in many ways at St. Stephen:

Confirmation is typically celebrated in the spring, with first year preparation in seventh grade and then confirmation in eighth grade. We have an active program for the youth preparing to receive this sacrament: Sacrament of Confirmation.
For Adults who have never been Baptized and/or come from another faith tradition, we encourage you to participate in our Rite of Christian Initiation of Adults program.