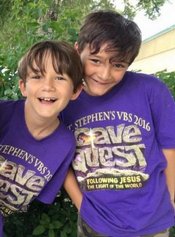 Summer Fun!
HERO CENTRAL VBS 2017

Discover Your Strength in God!
This year 2017 the kids will enjoy an awesome adventure alongside some of their favorite Bible heroes and discover the qualities that make us truly heroic in God. VBS Hero Central uses eipic music, spectacular science, crafty crafts, heroic recreation,, and fantastic Bible stories to help kids (and leaders) discover their strength in God!
VBS registration will take place weekend of April 29th and April 30th following each Mass in the portico area. For more information please contact Mariaelena Moore, St. Stephen VBS Director email StSVBSdirector@yahoo.com
San Jose Mission Vacation Bible School
The San Jose Mission is a residential community and education/social services campus for farm worker families. The Mission is located in the rural agricultural community of Dover, ear the Plant City area, known worldwide for its delicious strawberries.
For more information about helping with next year's VBS San Jose Mission please contact Kim Davis, Coordinator of Faith Formation K-5 at the Faith Formation Office, 813-671-4434 or you can email Kim Davis: Kim@ststephencatholic.org