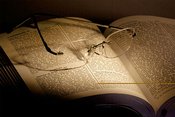 "Ignorance of Scripture is Ignorance of Christ" (St. Ignatius)
Our parish offers many opportunities for adults to grow in their faith. Join us at the Family Life Center at various times during the week for one of our small group Bible Studies, Catholic Moms Sharing, or the Divine Mercy group. There is still time to join us for the following classes. Please call the Office of Faith Formation to register: 671-4434. There is a fee for study materials but financial assistance is available upon request. New classes begin in January – continue to check the bulletin for future topics, days and times.
Tuesday night Bible Study, led by Bob Robens, meets NOV 14 - JAN 23 (with a few weeks o? for the upcoming holidays) at 7:00 p.m. in Room 10 at the Family Life Center. The topic will cover Paul's letter to the Galatians. Paul addresses what we must do to be saved, and reveals the merciful love that God has for us and explains how we can unite ourselves to Christ through faith and love. Study set fee is $30.
Wednesday morning Bible Study, led by Jeanne Glogowski, meets NOV 15 - DEC 20 at 10:00am in Room 3 at the Family Life Center. The topic is Panorama of the New Testament which begins with the gospels, through the ?nal book, Revelation. Discover God's plan of salvation running throughout the story and characters, both familiar and unfamiliar. Study set fee is $20.
Wednesday mornings, Catholic Moms Sharing group will be doing a two-week Advent workshop for moms on Dec. 6 and 13 in Room 4 at the FLC from 9:00 - 11:30 a.m. There is no book fee.
Advent - Rediscover the joy in preparing for Christmas by subscribing to Dynamic Catholic's free "Best Advent Ever" series. (click for more)
Coming in January -
Young adults in their 20s and 30s will meet for a study of The Gospel according to Mark, led by Bill Cardenas, every 2nd & 4th Tuesday of the month from JAN 9 to MAY 22 at 7:00 p.m. in Room 1. Mark's gospel begins with Jesus' baptism through the announcement of his resurrection to the women at the tomb. Mark asks everyone to answer Jesus' question, 'Who do you say that I am?' and challenges believers in every generation to accept the harsh reality of the cross. Study set fee is $25.
Thursday morning Bible Study, led by Nancy Slade, will present Bishop Robert Barron's Catholicism: The Pivotal Players Part 1 JAN 11 - MAR 29 at 10:00 a.m. in Room 10. Bishop Barron unlocks the truth behind the Catholic Church's most influential people: St. Thomas Aquinas, St. Francis, St. Catherine of Siena, Blessed John Henry Newman, G.K. Chesterton, and Michelangelo. Study set fee is $30.