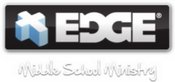 Living on the EDGE
EDGE- 6th & 7th Grade
What is The EDGE?
EDGE is a dynamic Catholic Middle School Program for youth in 6th and 7th grades. It is designed to meet the educational, spiritual, emotional, and social needs of young adolescents. It is made of 5 different programs, that together, strive to meet the spiritual needs of our catholic youth as they transition from elementary to their high school years. Youth are always welcome to bring a friend!
Dates & Times:
Girls of Grace & Wild at Heart- All Middle School
What is it?
Girls: Girls of Grace is a time for middle school girls to get together for friendship, faith discussion and fun. Girls of Grace is for young ladies of middle school age to lift and support each other - small and tall - in their journey of faith. Girls of Grace is mentored and led by young woman who authentically live their Catholic faith and desire to inspire those following in their footsteps. Through laughter, fellowship, and small group study, girls encourage each other to embrace the authentically created girls of grace God designed them to be.
Boys: Wild at Heart is a time for middle school boys to get together and enjoy food, fun and some small group discussion about following in the steps of Jesus.
Dates & Times:
Are you passionate about your faith? Want to share your faith with young men from grades grade 6, 7 and 8? We have a program called Wild at Heart and we need your help! Please consider being part of a group where young men gather in Christ to foster positive and lasting friendship through and in Him!
Please contact Michael Specht at the Faith Formation Office
Confirmation- 8th grade
Rite of Confirmation
Dates & Times
8th graders meet from 7:00-8:30pm at the Family Life Center every Tuesday night starting in September.

Parent Orientation is held in the Spring.
Michael Specht, Coordiantor of Youth Ministry - 8th Grade Confirmation