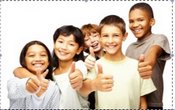 For the Young at Heart
Liturgy of the Word for Children takes place during the Saturday 6pm Vigil Mass. Children ages 3-6 are dismissed to their groups before the readings. The readings shared at their age level in another room, with crafts, and then the children return to their parents for the remainder of the Mass.
If you love children, this may be a great ministry for you!
You can contact us for more information - Children_Liturgy@ststephencatholic.org .