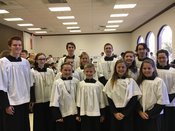 Proud to Serve!
Altar Servers - Boys and girls, fifth grade and older, serve at weekend Masses, holidays, weddings, funerals and other special events. What a wonderful way to serve our Lord and learn more about our Catholic faith! (Guidelines Here)
Download the Application for Server's Team from link on side bar; submit this in our ministry mailbox in the Altar Servers' Sacristy at any Mass, or in the parish office. Thank you!!

For more information about becoming an altar server, contact us! We have training sessions quarterly, and welcome you to join our ministry.
(Please note the server application tab to the right) altarserver@ststephencatholic.org
I thank you for calling me to serve your holy people today.
May I see You in them.
May they see You in me.
Grant this through Christ our Lord. Amen.
+ + +
Lord, in your light, we see light.
I thank you for calling me to serve your holy people.
Shine in my heart and mind, my words and actions.
Help me to be your light in the world.
Grant this through the One who is light from light:
Jesus Christ our Lord. Amen.
Lead Servers represent the highest level of recognition in our Saint Stephen Parish Altar Server Ministry, where Bethany now serves as one of only five who currently hold this position.
These young men and women - who are nominated by our Ministry Leads, undergo a stringent selection process, and are interviewed and endorsed by our Clergy - represent our best, and are charged to serve as the 'peer' leadership among the young men and women who selflessly serve us in this special Ministry. Those selected have consistently demonstrated exceptional skills as Altar Servers, knowledge of our Faith, Spiritual maturity, and the leadership potential required to teach, mentor and help guide their fellow Servers. We are very proud to recognize Bethany's past contributions to our program and expect much from her in her new and very important leadership role.