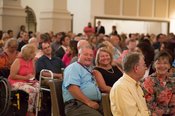 Welcome!
St. Stephen Catholic Church welcomes you to worship with us! In addition to our weekend Mass schedule, you are welcome to join us daily at 8:30am in the chapel. You can stop by for prayer and reflection most days until 4:00pm; Wednesdays many stay for Eucharistic Adoration after the morning Mass until noon. Come, let the Lord refresh your heart!

Liturgical ministers are needed for our new Mass schedule to begin this fall! Everybody working together can offer a welcoming experience to all who look to St. Stephen for grace, hope and fellowship on our journey of faith. Which ministry can you serve in? Please join us as a greeter, usher, lector, sacristan, or extraordinary minister of Holy Communion. Training is provided!

Our weekend Masses are as follows:
Saturday vigil Mass is celebrated at 4:30pm.
Sunday Morning we celebrate at 8:30am and 10:30 am. Our Sunday evening Life Teen Mass starts at 5:30pm.
Tuesday Evenings are a wonderful time to recharge the spirit with Mass at 6:30pm, followed by quiet prayer.
The Sacrament of Reconciliation is always available Saturdays at 3-4pm in the chapel, as well as Tuesday nights at 5:30pm. Come experience the healing and peace of Jesus!